Reflections from the Ngā Kāhui Manukura wānanga
09 March 2022
Ngā Kāhui Manukura was a series of six online wānanga on our vision, mission and strategy.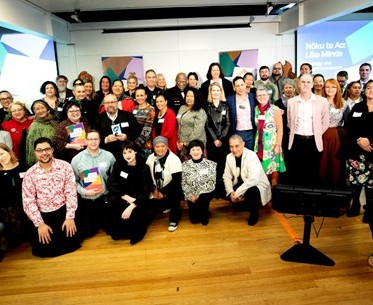 An initial Nōku te Ao Like Minds hui held in May 2021 identified capacity and capability development needs of the partners, beginning with strengthening whakawhanaugatanga and hononga, and gaining a deeper understanding of workstream components and our collective mahi.
The first and second wāhanga focused on honouring the Like Minds, Like Mine whakapapa and introducing the Nōku te Ao Like Minds programme leadership. Key foundational programme policy concepts, and the expectations of the shift to incorporate kaupapa Māori principles were clarified to ensure a common perspective for all partners.
The third wāhanga included presentations from Ngā Ringa Raupā | Nōku te Ao partners: Te Rau Ora leading Education for Social Change; Hapai te Hauora, Mental Health Foundation and Ngā Hau e Whā who together partner on Social Movement for Change; the Nōku te Ao Structural Discrimination programme lead; Mental Health Foundation leading both the Media Monitoring and Social Action Grants workstreams.
Two of Te Hiringa Hauora support leads from Communications, Marketing, and Insights, Research and Evaluation teams, presented progress updates. Together all discussed their approach to supporting partners workstreams in Wāhanga tuawhā and introduced Research Partner Te Whare Wānanga o Awanuiārangi.
Wāhanga tuarima introduced the partners to Arotake Tuhinga led by Te Werohau, who are engaged to produce Te Pae Tawhiti draft evaluation plan for consultation and discussion.
The final wāhanga 'Whakatakoto te Manuka Nōku te Ao' included representation from Te Whare Wānanga o Awanuiārangi, Te Werehau with facilitation by Oi Collective.
Oi Collective led exercises to think about Nōku te Ao Like Minds capacity and capability needs and priorities, and begin work on a programme action plan. Outside of this final wāhanga of the series Oi Collective will flesh out the action plan for distribution to the full collective.